Tutorial: About | Exploring | Adding a Person
---
Adding to the Tree
We encourage research doctoral candidates, PhDs, and EdDs to help our CSD Tree grow by adding their names and academic relationships. If you see an error on CSD Tree, please report it or help us fix it.
There are three steps for adding to CSD Tree:
Create a user account
Create and/or update your profile
Find and/or add your "parents" (mentors) and "children" (grad students, post docs, etc.)
---
Creating an Account
Creating a new account is fast and easy. Click the "Sign up" link at the bottom of any page. Or just click here.
You will need to link your log in to a person/profile on the Tree: The sign up form will prompt you to search for your name in case someone else added you. If so ‐ you can link your log in to this profile by selecting the correct name from the dropdown meu. If not ‐ you will need to provide your Name and Institution and the system will create a new node for you on the Tree.
Find the Sign Up Link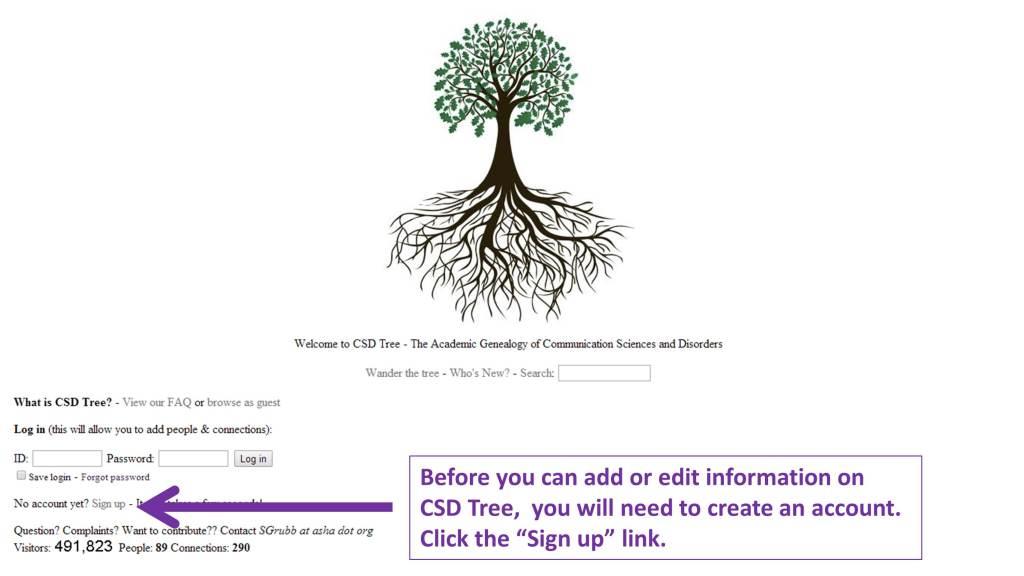 ---
Search to See if Someone Has Added Your Name to the Tree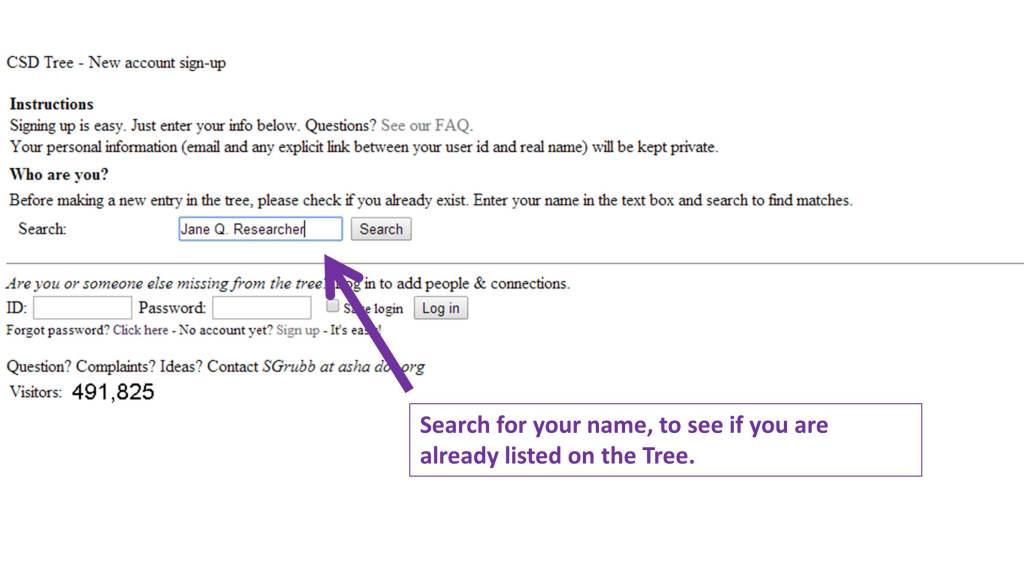 ---
If You Aren't on the Tree, Add Your Information
---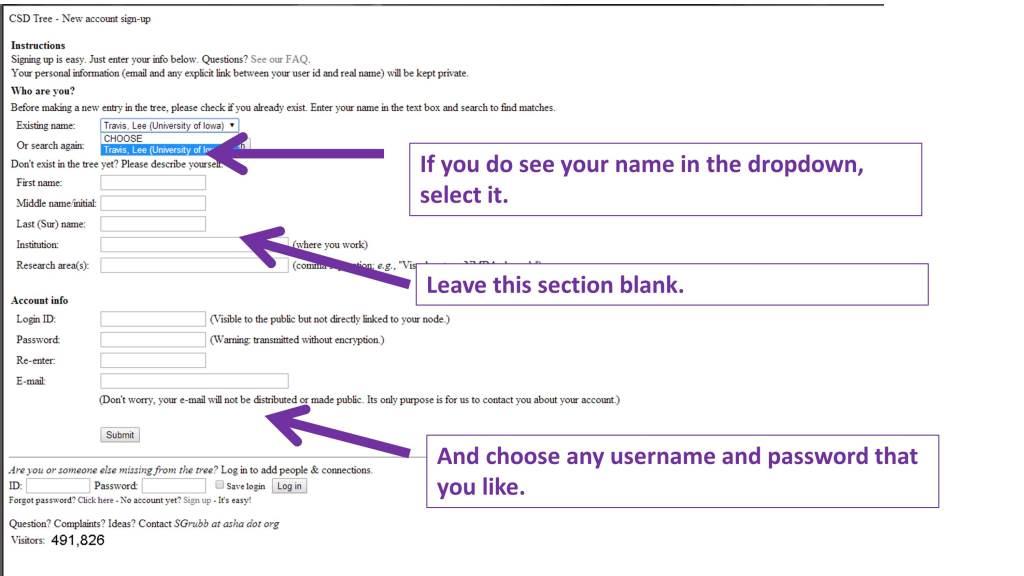 ---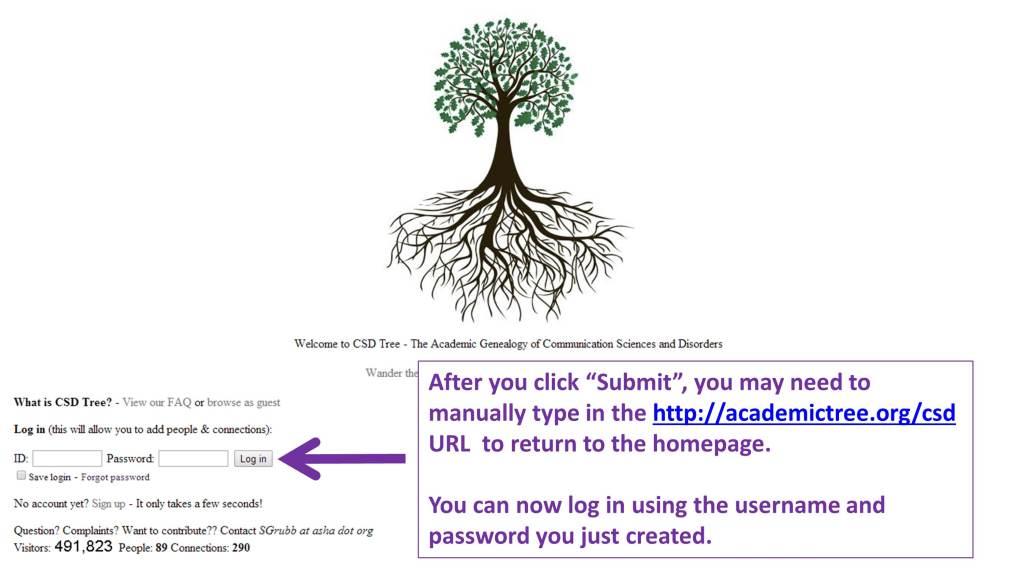 ---
Edit Your Profile
To see your profile page, search for yourself, and then click the "Info" link. If you are logged in to the site, you will see an option to "Edit" your profile. (If you do not have the option to edit, you may have been accidentally logged out. If this happens, just re-enter your ID and password at the bottom of the page to continue.)
On the Info Page, Find the Edit Link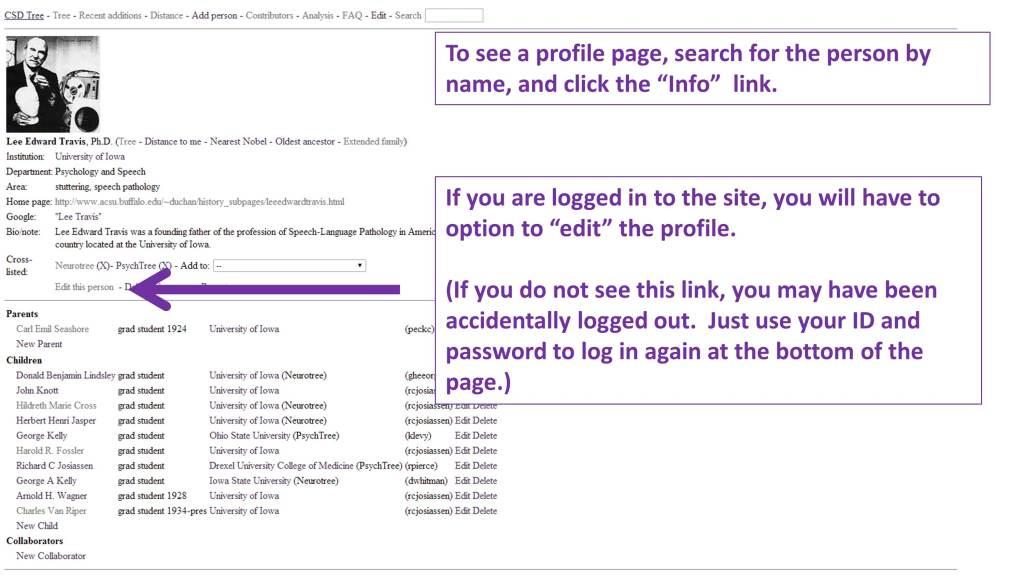 ---
Update the Biographical Details
---
Add Google Search Information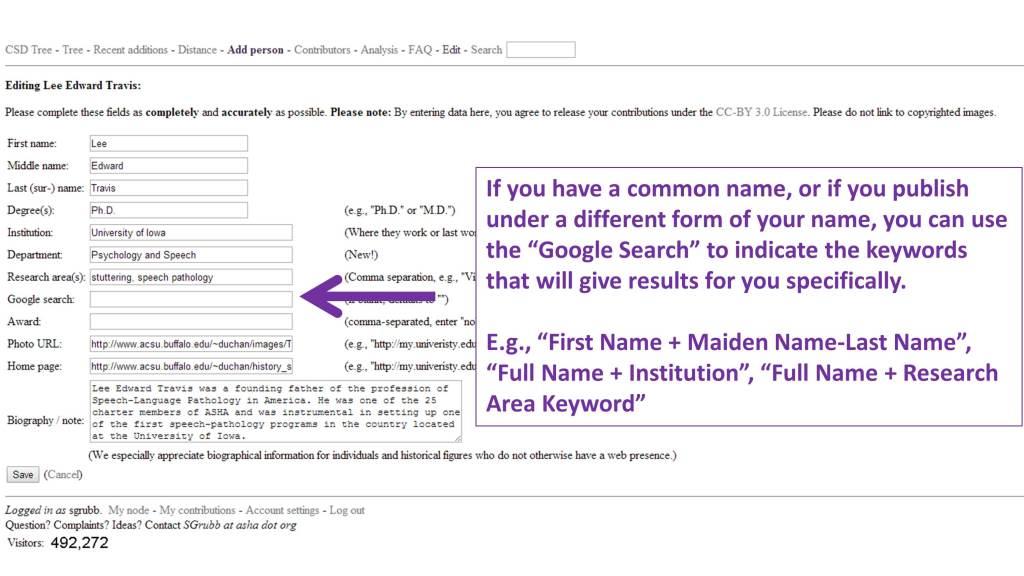 ---
Add a Photo Link to the Profile
---
---
Save Your Changes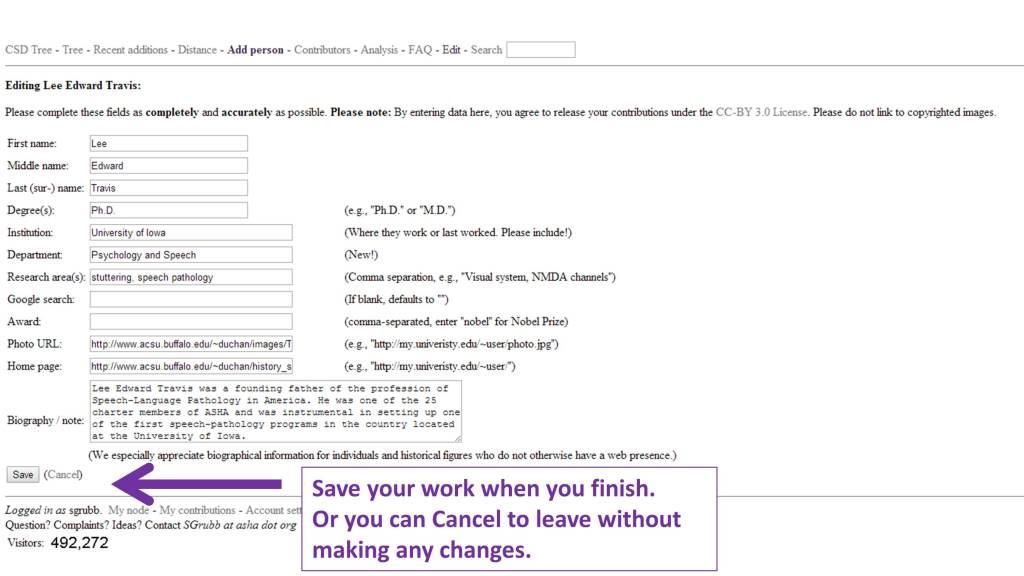 ---
Add and Edit Connections
You can make "connections" between two people listed on the Tree from any individual's "Info"/profile page. If you are logged in, you will see the "New parent", "New child", and "New collaborator" links.
You'll first be prompted to search for the connection to see if they are already listed on the tree. Important! Avoiding Duplicates: Make sure you select the "search all trees" option to search other branches of the AcademicTree.org project. Many researchers in the CSD family are already listed on NeuroTree, LinguisTree and other Trees – searching across all trees helps track interdisciplinary connections and avoid duplicates.
It's okay if you don't have many details about a parent or child – enter whatever information as you have, and hopefully another contributor will be able to fill in any missing details in the future.
Find the New Parent and New Child Links
---
Search for and Select the Mentor and Protege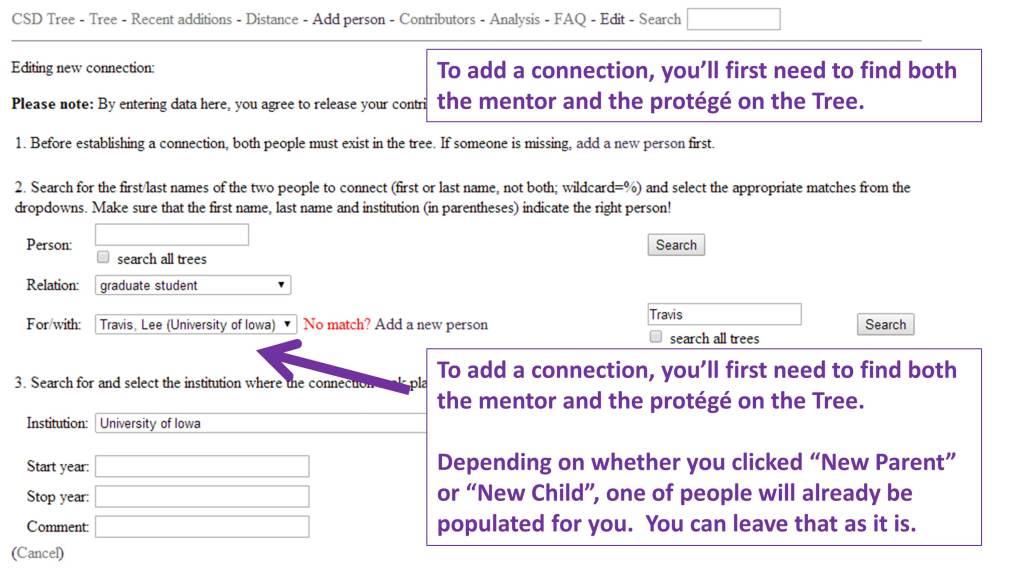 ---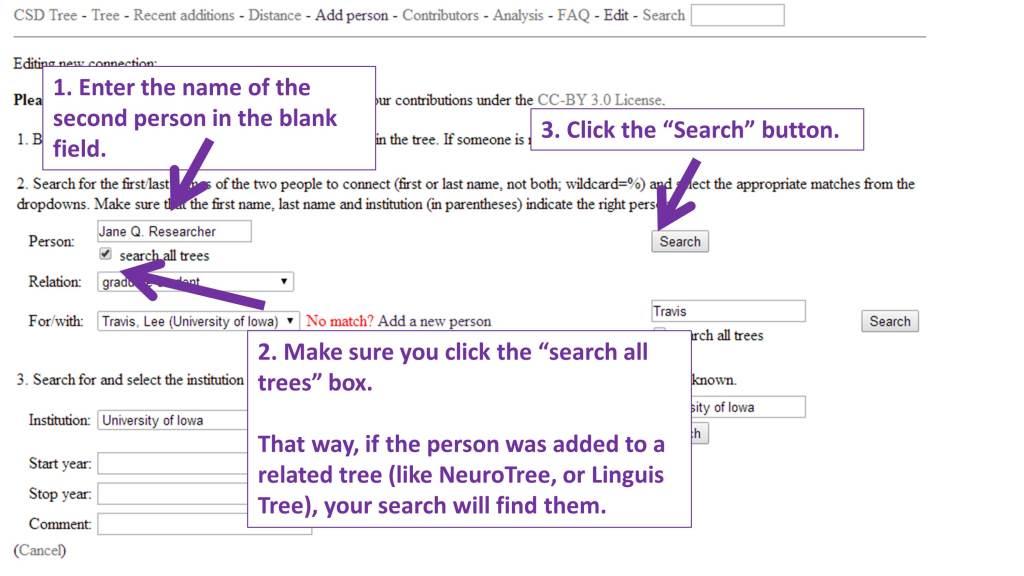 ---
If a Connection Isn't on the Tree Yet, Add Them
---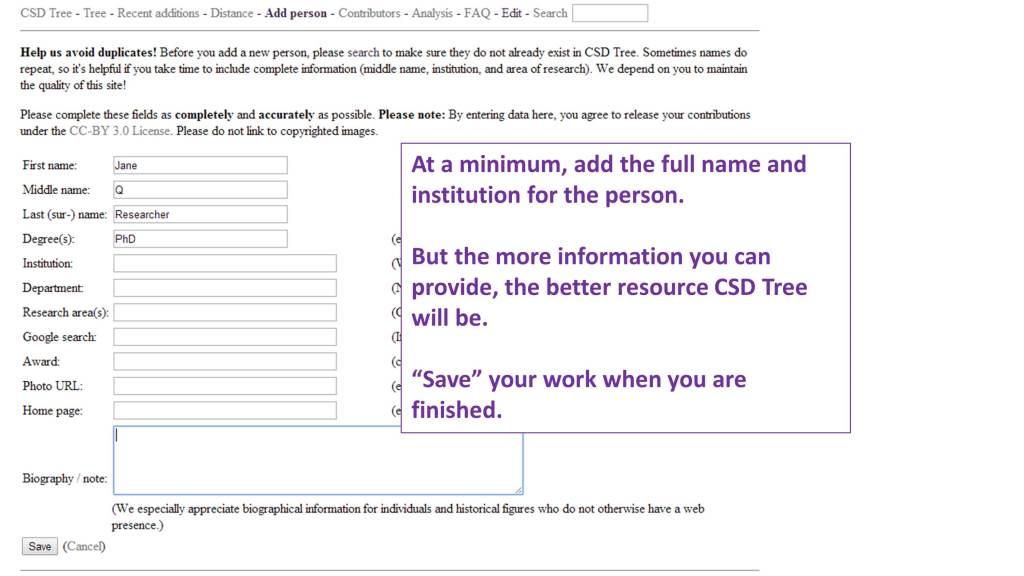 ---
Edit the Relationship Information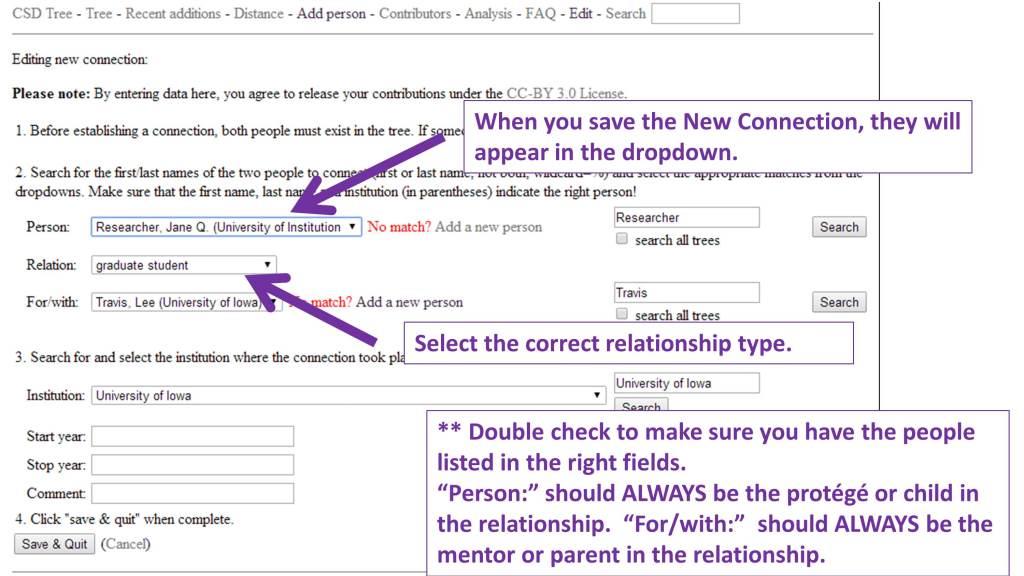 ---
Edit the Institution Information and Save